'Appy' days for Sion Stables
On Thursday 19th November, organisations from all over the globe descended upon Dublin for the prestigious Appy awards, which celebrate the very best in innovative technology and popular apps for mobile devices. Surpassing strong competition in the "Best Travel & Tourism APP" category, the recently renovated Sion Stables visitor attraction in the village of Sion Mills won the coveted Gold award, taking its rightful place among the best apps in the travel and tourism industry. Other apps in this category included Fáilte Ireland 'Dublin Discovery Trails'; Digital i3 Ltd 'Wish Woo Were Here'; and Matthew Kelly's; 'The Cliffs of Moher Audio Guide'.
Brainwave of Sion Stables Project Manager, Francis Hood, the Sion Mills Heritage Trail App lets users delve deeper into the fascinating social and industrial history of the village. It takes visitors on a guided tour of key sites and reveals the story of 170 years of linen production and the life of the people who worked and lived there. One of the APP's most intriguing features is its ability to show video content from days gone by at interpretative panels around the village.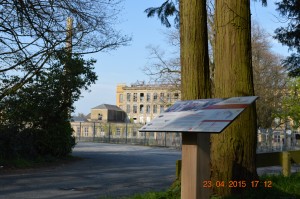 "I had a clear vision of what I wanted to create," explains Francis. By drawing on the talent and skill of Belfast based heritage and digital consultancy Oli, I knew we could deliver an unforgettable visitors experience that is innovative and fully immersive. We were passionate about taking the visitors' experiences to the next level, and it is great to be recognised for doing just that. Special thanks must go to the Heritage Lottery Fund and The NIEA Challenge Fund whose funding made this possible."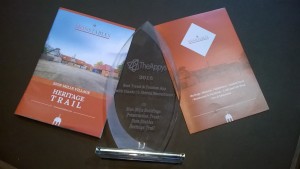 According to Oli's founding director, Julie McNeice, the Sion Mills Heritage Trail App is about more than cutting-edge technology. "There's no doubt that visitors are amazed to see real people from the past appearing on their screens as they follow the trail. But what is really important is that the app helps to convey the very human story of compassion, endeavour and philanthropy that this village represents. Sion Mills is a very special place and Francis' vision is helping to bring awareness of what was achieved here to an audience of global visitors. This can only be good for the village and for the economy of the wider region."
Sion Stables Heritage Trail APP is available for downloading free for all iOS devices by going directly to www.sionstables.com. The website also contains information on Sion Stables Museum. Alternatively, visitors can call 028 8165 9772.